We all know that compared to using planes or cars, trains have a much lower carbon footprint – 7 to 20 times lower, in fact. And this is set to increase as electricity grids decarbonize: electric trains benefit from renewable energy.
But while electrification of the rail network has slowly increased across Europe, it is a slow and expensive process which is far from complete. In fact, 40% of railways across the continent remain unelectrified and may never be. Where railways are not electric, trains need to use diesel engines to get around. And today, half of all trains on Europe's railways still use diesel engines.
So why not continue to electrify railways? Electrification projects can be prohibitively expensive and disruptive – and can take years, especially when tunnels or bridges have to be re-engineered. Rail operators that want to decarbonize transportation are left with a challenge: How can they move their fleets away from diesel when the cost of electrification is too high? This is where our new battery train solutions are so effective.
Cutting carbon emissions by 50%
Hitachi Rail's Masaccio battery 'Tri-brid' train has provided an instant retrofittable solution for operators like Trenitalia in Italy.
On lines where the Masaccio has replaced existing diesel trains, it is immediately helping Trenitalia to reduce carbon emissions by 50%. In fact, the Blues train – as it is known in Italy – is already decarbonizing routes across the length and breadth of Italy, from Sicily to Friuli Venezia Giulia. This is significant. A green train revolution.
The Blues train is cutting carbon emissions by 50% on existing lines. The Masaccio works by drawing on three different energy sources – battery, electric and diesel – depending where it is on its journey. On non-electrified lines, it can run on diesel or battery power.
Although the battery only has a range of up to 15km today, it is used when trains are entering and leaving stations. That removes the emissions at the point where diesel engines have their most negative impact: where the diesel engine works hardest to get the train up to speed, and where there are more people exposed to both noise and particulate emissions.
It is also quick. The battery can be recharged through regenerative braking, directly from the pantograph, or at terminal stations in under ten minutes - faster than your smartphone.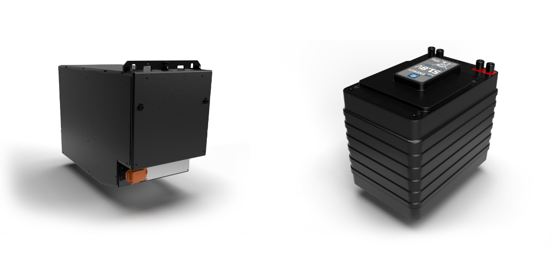 Battery technology can cut carbon emissions and save fuel costs by half. A trend from hybrid to full battery. What we are seeing today is just the start. Just like in the automotive sector, we observe a growing trend towards battery hybrid trains, as the rapid advancement of battery technology means increased range and lower costs.
Within the coming years, Hitachi Rail is working to expand this range to a game-changing 100km. This would allow operators to ditch diesel all together and help passengers and the environment benefit from lower emissions across the entire journey.
The potential is huge. With only around 60% of lines in Europe electrified, the Masaccio offers an immediate solution to decarbonize rail travel across the continent. The Masaccio is already compatible with ERTMS (European Rail Traffic Management System) digital signaling, so Germany and neighboring central European countries could be next in line for the expansion.
If Europe is serious about hitting its emission targets – a 55% reduction by 2030 and climate neutrality by 2050 – then radical new technologies like batteries need to be rolled out fleet wide.
And because the technology is retrofittable to existing trains, rail operators can start to address the fleets they have today, not only the ones that might get ordered in the future.
Experience in batteries based on 20 years of innovation
The teams at Hitachi have been at the forefront of battery innovation since starting to test our first battery trains in 2003.
We launched the world-first battery commuter service, the DENCHA, into passenger service in Japan in 2016. We have pioneered battery trams that can help overcome the lack of electrification in historic city centers, like Florence. And we are preparing to retrofit batteries on intercity trains to create a high-speed battery-diesel-electric service. And as the clear sustainable choice for decarbonization, we are backing batteries as a solution.
As part of the Hitachi group's commitment to battery technology our customers can benefit from energy, digital life cycle optimization, and financing solutions that can maximize the value of batteries – and minimize environmental impact.
If you are interested in reading more about the Hitachi Rail commuter battery train, download the Masaccio product fact sheet, or read the Blues train case study. And, for more solutions for the decarbonization of rail, take a look at all our battery powered trains and trams.
This article was first published here: Hitachi Rail.