Alstom's new innovation center in Montréal has been set up to develop future platforms for green hybrid, battery and hydrogen propulsion technologies specifically tailored to the geographic, climatic, and regulatory realities of the North American rail freight and passenger markets.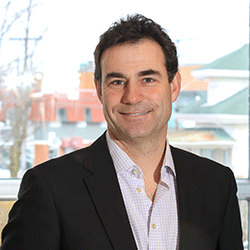 The center will be led by Éric Rondeau (pictured above), who has a proven track record in the field of transport electrification and recently worked as senior strategic advisor to Investissement Québec International and the Quebec Ministry of Economy and Innovation to develop and deploy the Quebec battery industry.
According to Rondeau, the opportunities for electrifying the North American rail market and for meeting the sector's decarbonization needs are huge. "Unlike Europe or Asia, the rail network in Canada and the US is barely 1% electrified," explains Rondeau. "It is used by 27,000 diesel locomotives every day, which is a significant proportion of the carbon footprint of our companies. Efforts to make this mode of transport greener must be stepped up, by providing public decision-makers and our customers with proven electric propulsion technologies. It will be this innovation center's role to develop these new innovative platforms or to adapt them to meet the challenges of the region." 
North American footprint
The innovation hub was a key commitment made by the Alstom group at the time of the acquisition of Bombardier Transportation, completed in January 2021. Following the acquisition, financing firm Caisse de dépôt et placement du Québec became Alstom's largest investor, with 17% of shares, and Alstom's HQ was moved to Montréal, Québec, with the new center opening to build on Québec's well-established strengths in innovation and sustainable mobility. 
"The new center will bring together our technology, expertise and solutions from across the global network of Alstom and develop a North American footprint of green offers," explains Rondeau.
The center's installation in St-Bruno will ensure unprecedented synergy through its proximity to the 500+ Alstom engineers currently working on the site, as well as to dedicated prototyping facilities. It will be equipped with state-of-the-art virtual and augmented reality equipment, enabling it to optimize its activities to develop future green propulsion platforms. "This equipment will give us a lot of potential for accelerating design adoption by the client," adds Rondeau.
Rondeau believes that aside from Québec being Alstom's HQ, it also offers great potential in terms of clean energy sources, which could be used to produce green hydrogen to power trains. Nearly 99% of all energy produced in Québec is renewable, and almost entirely hydroelectric, according to Investissement Québec, and electricity costs are 49% lower than in the G7 countries, on average, and 36% lower than in the United States.
"Québec offers one of the most beneficial environmental for scaling the production of green hydrogen," says Rondeau. "We could work on this with our neighbor states and provinces, but the infrastructure for rolling it out and refueling still needs to be built. Our objective is to partner with the right independent power producer and integrator of hydrogen supply to build the infrastructure."
Lessons learned
In the Québec hub, Alstom will also use its experience gained in Germany, where the firm is working with public transport agency Landesnahverkehrsgesellschaft Niedersachsen (LNVG) in Lower Saxony to operate 14 hydrogen powered Coradia iLint trains, gradually replacing diesel locomotives.
"We believe we can bring the technologies we have developed in the past few years, which are now commercially running in Germany, to America and integrate them in the North American market, meeting all operational and regulatory requirements," comments Rondeau.
Currently, the specific projects being worked on at the new hub are confidential, but Rondeau did reveal that the team is working on "bringing a clean energy train to the North American market in the coming years," and there are projects looking at new types of batteries and fuel cells.
In the area of hydrogen refueling, the hub is working closely with the Hydrogen Research Institute (HRI) of the Université du Québec à Trois-Rivières (UQTR) on the preconditions for the success of the refueling and operating ecosystem for hydrogen propulsion. The center will also participate in McGill University's Sustainable Growth Initiative, a think tank aimed at providing companies and governments with innovative solutions to accelerate the green transition in transport.
"We believe that the best way to work is to start with what we call a "launching client." Basically, a client that is willing to work with us on developing a decarbonization solution in collaboration mode. They would tell us what parts of their operation they want to test and develop differently, with regards to decarbonization, and we would help them come up with the solutions. We want to take a different approach to providing our solutions, one that isn't just about a hard sell," Rondeau explains.
Government support
Rondeau believes that more support is needed from a government level to help the North American rail market accelerate decarbonization. "We really need to help railway operators close the investment gap," he says. "Authorities could offer things like green premiums [the difference in cost between doing something in a way that produces greenhouse gases and doing the same thing without the emissions] to help accelerate the adoption of sustainable technologies.
"It could work in a similar way to how solar and wind power facilities receive renewable energy credits when they send electricity to the grid," he continues. Rondeau notes that the technology is there to decarbonize the rail sector, operators just need the chance to integrate it affordably then it is "just a matter of reaching the right level so it can be scaled," he adds.
For the North American rail market Rondeau says that there is no "silver bullet" solution to decarbonization, but rather a mix of technologies is required, which best suit route and operator needs. He believes the best approach is to look at the energy and operational requirements of the route to be decarbonized and come up with the optimal solution, taking into consideration the total cost of operation (TCO), rather than looking at the hardware and technology first.
"The rail sector is gradually adopting this different way of thinking," he says. "Instead of talking about what sustainable rolling stock is available, people are looking at the end-to-end solution, and how the infrastructure can be adapted to that. We also need to consider all types of propulsion – battery-electric, hydrogen and electrification, as there is no one-size-fits all solution. For example, some of our clients operate in mountainous areas where a lot of energy is required to run trains over extreme topographies, so batteries aren't ideal.
"In an ideal situation we would electrify everything, but with only 1% of the North American rail market currently electrified, and more than 200,000km of track, electrification is kind of impossible. It would cost trillions of dollars!" Rondeau adds.
Rondeau also believes that the future will see more collaboration between rail operators where they work on "developing the new energy infrastructure together." He concludes, "It would be fantastic if the industry had a forum for coopetition. This is already happening in the electric vehicle industry where Electrify America has brought together several OEMs in the automotive sector to roll out a nationwide EV charging infrastructure. This is a good example of the potential cooperation which we are open to. It would change the dynamic and speed up the adoption of alternatives to fossil fuels."
This article first appeared in the October 2022 issue of Electric & Hybrid Rail Technology magazine. Read the full issue here.