RECOM Power
Hall 17, Stand 335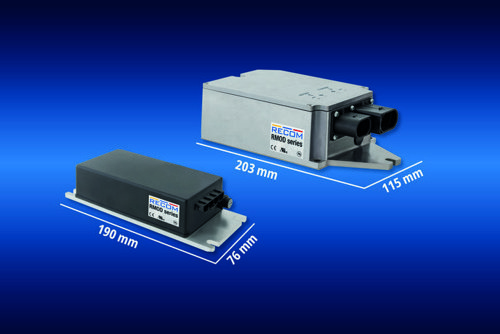 RECOM'S RMOD families are robust plug & play modules which are used to generate the low voltage network for a vehicle's traction battery
Railway carriages, vehicle locomotives and multiple units are constructed "inside-out". First, the chassis and frame are assembled inside a giant cradle. Then the flooring and internal walls are added. The whole carriage can then be rotated to assemble the equipment built onto the roof space (lighting, air conditioning, CCTV, door actuators, electrical cabling, etc.) and the heavyweight stuff is built into the underbody space (braking controllers, traction systems, air compressors, vacuum pumps, etc.) Only when all of this is complete, are the windows and outer skin of the carriage fitted.
Coach bodies are assembled this way to make it easier to fit all the electrical and electronic equipment, cabling and sensors needed for a modern railway carriage. As with any complex electronic systems, ensuring a clean and reliable power supply is essential, so the EN50155 standard for electronic equipment in rolling stock is the basic specification for designing such power supplies, detailing the technical, EMC and environmental requirements.
However, assembling a complete power supply system requires more than simply assembling different power supply units together. Just as the carriage needs to be built bottom-up, so does the power supply infrastructure.
At the "front-end", new power generation technology such as fuel cells and battery hybrids need multi-kilowatt AC/DC and DC/DC converters and chargers. RECOM provides several charger solution families in the power range from 1,5kW up to 18kW as modular and cascadable units including intelligent interfaces such as CAN J1939 and temperature regulated output voltages including split operation.
At the "plug-and-play" area, flexibility is called for. These units are designed for equipment that needs a standalone or an external power supply or for any equipment that needs fully approved units. RECOM's RMD Families are ready to use, where easily a complete certified unit can be implemented without having to design the PSU with an extra PCBs, without any external/extra circuits and especially without any trouble of certifications and approvals. Modular, all-in-one, chassis mountable, easily swappable, power supply units need to be available for any kind or railway systems.
At the "back-end", compact and robust DC/DC converters are used to provide local power. Isolating each functional part with its own independent power supply ensures that there is no crosstalk between them and increases fault tolerance.
RECOM offers a product range that covers front-end, back-end and plug-and-play solutions, all from one experienced source. Visit the company at InnoTrans to find out more.
Leclanché
Hall 11.1, Stand 260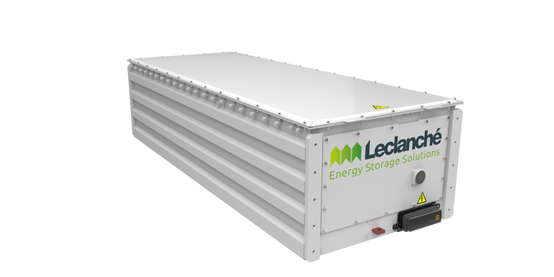 Leclanché's INT-53 Energy Battery Pack
At InnoTrans 2022, Leclanché, a global leader in the electrification of fleet vehicles – from trains to ships, trucks, and specialty vehicles – will display its full range of lithium-ion battery solutions specifically designed for the railway industry.
The company manufactures its own cells to exacting standards in Germany. It has become a benchmark in lifecycle and total cost of ownership for rolling stock and locomotive applications with a service life of up to 10 years and hence providing tremendous savings in battery replacements. Leclanché cell technology has been specified for use in North America and Europe by some of the industry's largest rolling stock manufacturers and operators.
In addition to its cells, Leclanché manufactures modules on its state-of-the-art automated assembly line, in Yverdon, Switzerland. These modules are assembled into packs with proprietary functionally safe battery management systems (BMS) to address the needs of battery electric multiple unit (BEMU) trains, freight train locomotives and other specialized railway maintenance equipment.
On display in Leclanché's InnoTrans stand 260 in Hall 11.1, the company will be showing its railway specific INT-53 Energy Battery Pack. The fully modular and scalable system is configurable for a large range of railway energy requirements. It includes liquid-cooling in every pack and provides real-time access to battery status, performance, and diagnostic data via a comprehensive user interface.
The INT-53 Energy Battery Pack resides in a robust aluminum enclosure that is IP65 rated. The fully self-supported high strength pack structure can be optionally end-mounted if required. The system features standard CAN bus communication for system connectivity. It is expandable by integrating multiple packs using a multistring controller.
Subsystems comprising up to eight packs in parallel, making a total of 424 kWh, can be combined to further increase capacity as required. For G/NMC batteries, it provides an industry leading cycle-life of 8,000 cycles at 80% DoD and 4,500 cycles at 100% DoD.
Leclanché's battery systems are designed to meet the railway industry's most rigorous safety standards including EN45455, IEC62619 and EN50128 and the company is IRIS / ISO TS 22163 certified. The company's proprietary battery management system, developed by its in-house team of hardware and software engineers, is designed in accordance with SIL 2 level requirements.
Enedo Power
Hall 17, Stand 170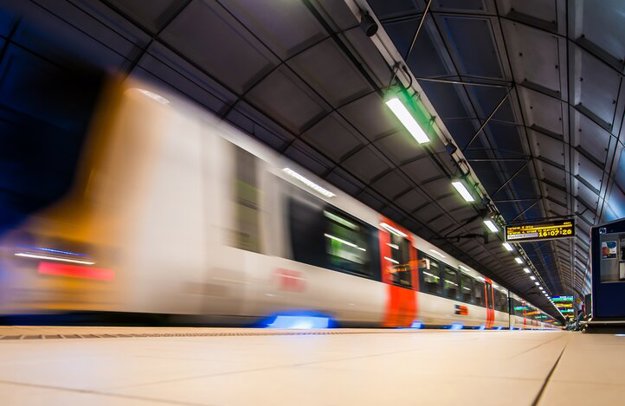 Enedo Power is a leading manufacturer of auxiliary power supplies for the rail industry (rolling stock and trackside). Its battery management and AC/DC and DC/DC systems ensure that rail operators have the highest possible up time. Enedo is a leader in the market for the development of very modular and high-power density auxiliary power systems, which are easy to maintain and service. For decades major train manufacturers have applied Enedo's auxiliary power systems in their trains and they are in operations worldwide.
According to the company, Enedo's success is based on innovation through substantial investments in R&D and strong aftersales. The company is well represented globally, with its own companies in Finland, Italy, USA, and Tunisia, and with strong system integration partners it can offer the right solution for railway applications anywhere in the world.
At InnoTrans 2022 Enedo will launch a new product family of AC/DC, DC/DC, and battery management systems for trains. To read more about its new high power density auxiliary power and battery management system, see the latest issue of Electric & Hybrid Rail Technology magazine.
P-DUKE Technology
Hall 17, Stand 200
P-DUKE is a Taiwan-based company founded in 1992 that is fully committed to R&D and the production of high-performance power conversion products. P-DUKE offers a broad range of DC/DC converters as well as custom power conversion solutions.
P-DUKE engaged in railway power solutions in the early 21st Century. Starting with custom solutions and thereby accumulating more than 20 years' experience that brings to date a comprehensive standard product line from 3W to 300W for PCB mounting and off-board mounting for the rolling stock market. With the focus on both railway and medical markets, where the highest product quality and compliance to all relative application standards is required, P-DUKE 's main business is in Europe, America, and Asia Pacific.
Accumulating over 30 years experiences in power conversion has allowed P-DUKE to become the leading manufacturer in low-power conversion not only for the rolling stock market. The company has a strong technical team that provides prompt and professional support in power relevant system design issues which are, for example, choosing optimal power solutions or EMI circuits suggestion, etc. A majority of railway sub-supplier system companies all over the world have chosen P-DUKE as their preferred partner for critical power solutions.
P-DUKE's railway approved DC/DC converters from 3W to 300W are highly reliable and have input voltage ranges from 8.5VDC to 160VDC. They are available with single and dual outputs. All converters are EN 50155/ EN45545-2 certified and approved for shock and vibration and thermal shock, according to EN61373, MIL-STD-810F standards.
The extremely high efficiency of these DC/DC converters allows for an operating temperature range from -40°C (optional -55°C) to +105°C. The whole product range comes with IEC/EN/UL 62368-1 safety approvals with a maximum operating altitude of up to 5,000m ASL.
Prima Electro
Hall 11.1, Stand 115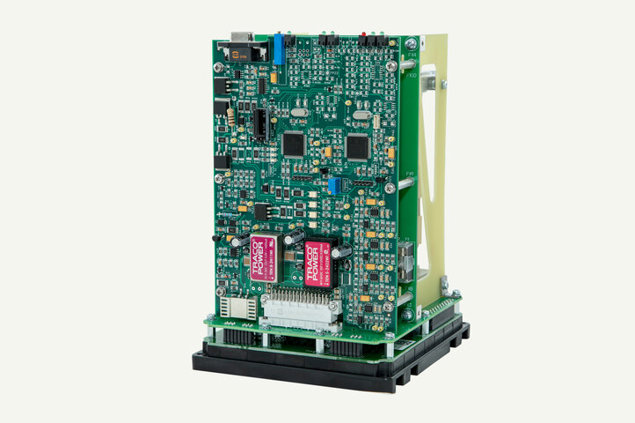 Prima Electro's REDI electronic disk relay module
Based in Italy since 1978, Prima Electro is one of the main EMS partners in the railway sector, offering its customers services in the design and production of integrated electronic systems for sustainable and high-tech mobility solutions. Data transmission systems, power inverters and EV battery chargers, on-board train control systems and public transport monitoring systems: as a full-service technology company, Prima Electro develops targeted solutions for safe and industrial-grade applications.
Prima Electro oversees the entire product lifecycle, from feasibility studies to certification and production of the electronic equipment and is a strategic partner for all those companies wishing to improve performances of their systems with tailor-made electronics.
During InnoTrans 2022, Prima Electro will display some of the latest projects developed for the railway market, where technology is playing an increasingly key role on the decarbonization front, from electrification to digital technologies. Among the showcased products, there is the optical power supply, an innovative transmitter unit based on a laser diode and a receiver, capable of converting the laser beam in electrical power to supply power meters installed on trains.
Concerning the on-board technology and the data transmission systems, Prima Electro brings to Berlin its control units for bogie stability and hot box detection, together with the remote terminal for data acquisition of on-board events or for maintenance. Recently, Prima Electro has been involved in the production of the electronics track relay (REDI) used to detect the failure of any insulated joint, working with different track circuit types.
Bender
Hall 9, Stand 349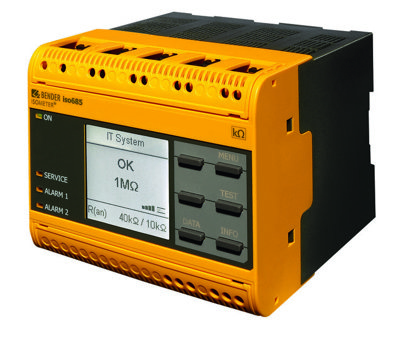 Bender's iso1065 insulation monitor
As a renowned railway supplier, Bender will be participating in the InnoTrans Fair 2022. Electrical railway technology is subject to extremely stringent safety standards and must therefore comply with national and international standards.
Guaranteeing electrical safety and availability is an essential element of smooth railway operation. This applies to rolling stock, such as locomotives and railcars, signal boxes, signal systems, operational buildings, tunnels, and bridges, among other things. Bender's system solutions monitor electrical systems and equipment on the railways and ensure the necessary edge in terms of information before critical circumstances arise. 
At its stand Bender will inform visitors in detail about its system solution for monitoring electrical railway systems and equipment. The company's technical experts will present its latest products for realizing safe and reliable railway operation. Its wide product range enables the realization of individual safety solutions and thus offers a high level of investment security. Visitors will also learn about Bender's insulation monitoring device ISOMETER iso685 and many other monitoring devices that are especially designed for use in railway and are suitable for a wide range of railway applications.
Bender is a globally active medium-sized family company and leading provider of top-class electrical safety products and solutions. The range covers applications in the field of mobility for electric or hybrid vehicles, energy generation and distribution, regenerative energy extraction and applications in building technology and various other industrial areas. The development and production of components for the sensitive medical sector is one of the key focus areas of our products.